Muay Thai Beginners Classes
It doesn't matter who you are, your background or experience. Everyone is welcome at our beginner classes. This is where you gain the basic foundation and skills required to begin the journey to your goals. Our trainers give you effective tips to make your training sessions work better for you.
What is involved?
Beginner classes are one hour long. As with all classes you'll begin with a warmup including skipping, stretching and other specific exercises (like knee's, push kicks, squats, sit ups etc). After your muscles are warm and loosened, your trainer may run through a variety of technical drills, giving instructions on correct technique. There will be lots of punching, kicking, kneeing and elbowing in various combinations!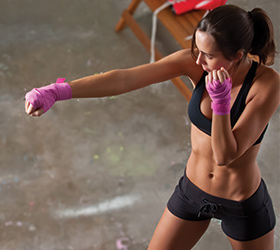 Gain Fitness and Flexibility
Yes its a workout, and yes its fun! At SRG you'll do more than work up a sweat. Regular training will help you in both body and mind.
Condition and Strengthen Your Body
Training Muay Thai means using your whole body. Let us inspire you to go that extra step.
Improve Endurance and Cardio
Also known as "The Art of Eight Limbs", our training will improve your physical performance and capabilities.
The Ultimate Motivator
Martial arts have long been a temple for the mind. Developing your body, exerting yourself and learning new techniques grows your will power and resolve.
Lose Weight and Tone Your Body
This isn't your regular gym routine. You'll be doing the same training techniques used in the highest levels of Muay Thai fighting.
Convenient Location
We are located on Botany Road, Alexandria, 10 minutes from the Sydney CBD, Eastern Suburbs and Inner West. Lots of public transport + local parking.
Get Started Today!
Enjoy an obligation free trial on us. Book your introductory session today and receive a 50% discount on your joining fee if you sign up. This includes your gloves and muay thai shorts!